It is nearly impossible for me to watch a movie without connecting emotionally.  I can't watch scary/disturbing movies, the images stay with me and I don't like them in my head.  I enjoy pointless comedies, rarely, but not always. I almost always pass on vampires, ghosts,  aliens, robots, monsters, rodents, and insects… eehhh, no thanks.
I guess, I want a movie to actually move me.  I want to connect with the story or a character, and watch the process of discovery, change, and understanding unfold.  I like finding something in the story that I can relate to, whether it's the main character's personality or their plight.   Maybe it's a bit self-centered, but admittedly, aren't we all sometimes?
I'd rather be moved than entertained.  I'd rather be challenged or inspired than just watch a meaningless story unfold before my eyes for 1.5 hours.  While talking with some friends, I realized that I like films that are sometimes sad, but hopeful… rather than just happy, picture perfect endings.   Don't get me wrong, I love happy endings, but I think things can be happy even when not seemingly perfect. So, ultimately, I find that most of my favorite movies seem to pass under the radar time and time again.
2009 brought us lots of big movies, oh and lots of terrible (in my opinion) movies, but I'm only interested in talking about a handful that were my favorites of the year.  You'll probably shake your head and hear yourself saying, "really?" but the beauty of life is that we get to like different things.  And thank God because if not, I'd have to like Night at the Museum and Transformers.

ahem, my favorite movies of the year.
5. 
Coraline…
It was a little dark, slightly eerie, but oh, so beautifully artistic and fun.  The colors, patterns, and creative detail was like a circus for my eyes.  It also resolved that even though life isn't perfect, real life is better than fantasy.
4. 
Away We Go… 
We spent most of this year, applying for a new job, wondering what new place that job might take us, all while raising a new baby… so if you know anything about this story line, you'd understand why I loved it.  I think that when we ponder our lives and the lives of others we often compare the "pictures," and we get jealous or frustrated that someone else's picture seems to look better than ours.  We waste time striving to have that picture, when it never looks the same for us.  If we stop comparing our lives through the lens of everyone else's, we'd see more of the beauty and goodness that were always there.  That's what I got out of this film.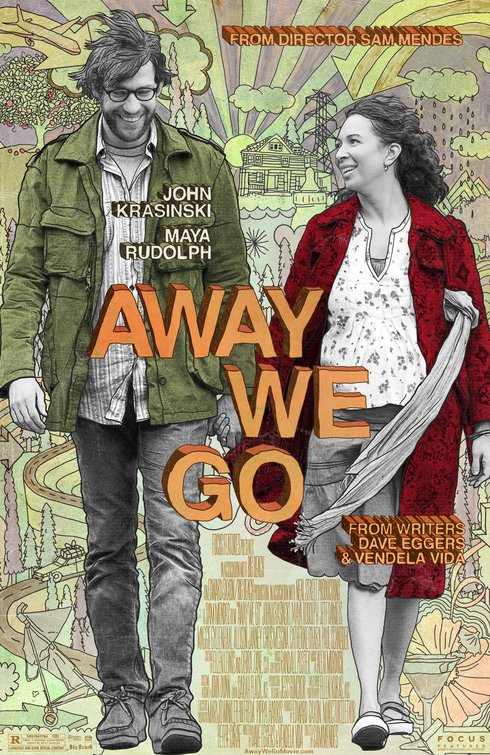 3. 
500 Days of Summer
…  I just saw this last night, after finally convincing my husband to go to the video store.  I mean, the film stars my favorite, Zooey Deschanel, opens with a Regina Spektor song, and is full of art museums, coffee, greeting cards, and what can only be described as "Anthropologie" style.  If it was a silent film, I'd still love it.  But the film was so clever in addressing the idea of love.  The idea that we think we know what love is, until it happens and all our defenses are stripped away and we become the cliché, no matter  how hard you try.  That's real.  It's fun, exciting, sad, hopeful, disappointing, but all in all, it's good.  Here's what the husband
had to say
about it.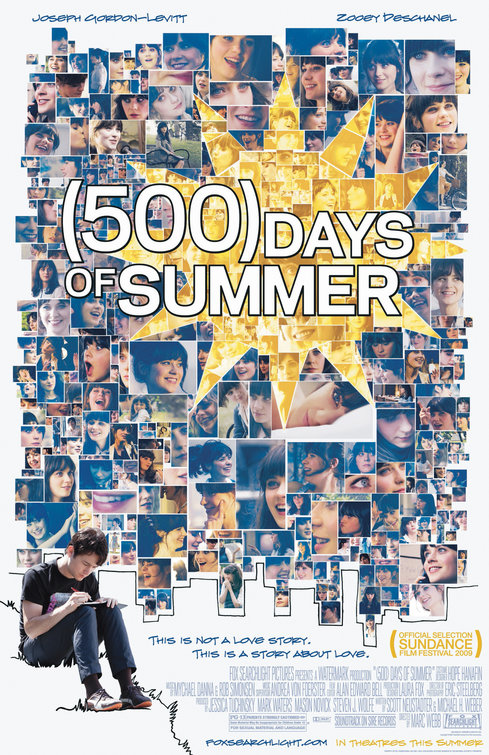 Now, this part is tricky, because these last two movies, probably could both be my very favorite of the year, they are pretty different, so it's hard to compare.  But, I'll try to rank them.
2.
Where the Wild Things Are…
Sigh, I loved it.   I spent half of the movie in awe of the cinematography, the creativity, and the beautiful scenery.  I spent the other half  in a great range of emotion.  As Max experienced the trials of dealing with the emotional struggle of his parents' divorce, I found myself more angry than sad. I was angry because I know how that feels, when it happened in my family.  I was angry because I remember spending a lot of days feeling that way.  I was angry because my siblings had to deal with that when they were young, like Max.  I was angry remembering how it changed people.  I was sad because I know that when you stop being angry, then you're sad, and you have to be sad for a while, in order to be happy again.  (Yes, all this from a movie, based on a children's book.)  There is so much more about this movie, so much more… And in the end, there was redemption and hope.  You may not get the same things from it, probably won't, but my husband found something totally different in it… and it brought him to tears too.  No matter what crazy people tell you about how  they hated it, it's a powerful, beautiful film. 
1. Julie & Julia… yes, I'm serious.  I really fell in love with this movie.  It was inspiring and charming, funny and emotional.  The plot is pretty obvious,  but with all the amazing Paris scenes, the glorious food, the writing, the cooking, the dreaming, the husband/wife relationships,  the idea of taking on challenges and believing in yourself….  I definitely found myself in the film and yes, I cried.  Apparently, that is what I do.


So, there you go.  My five favorite films of the year.  Did you see any of them?  Did you like any of them?  What were your favorites?

If there was one more spot on the list, Up would definitely fill that spot…